Sweet sultry Nesty takes a landing strip pussy pounding then deep throat sucks her guy off and foot fucks his hardon
---
Wrapped Up In You
---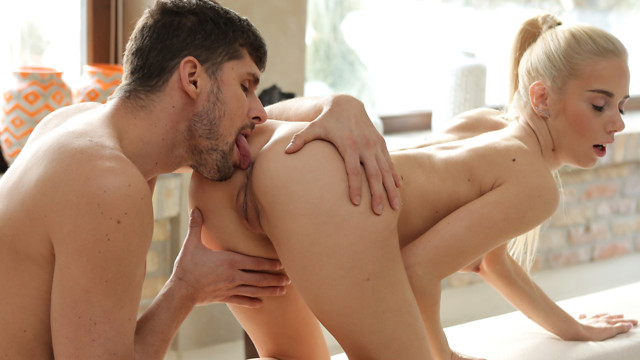 Lusty Nesty struts up to Kristof Kale and lets her boyfriend know that she's definitely interested in him rocking her world.
Her rock hard nipples are easily visible beneath the thin fabric of her tank top, indicating her lack of a bra.
Reaching out to take Nesty's long scarf, Kristof uses that prop along with his hands and his mouth to bring his lover's desire to a fever pitch as he undresses her and worships her small tits and tightly packaged body.When Nesty finds herself seated in Kristof's lap with one hand on her breast and the other down her shorts, she can't contain her soft gasps of excitement.
She is happy to let him lead her to the bedroom, where he peels off her remaining clothes.
Now that she's naked, her landing strip twat is bared for Kristof's enjoyment.
He doesn't wait long before kneeling before her and using his talented fingers to fill her while his warm mouth suckles her clit.Standing up, Kristof pulls out his stiffie and presses it to Nesty's dripping opening.
Her pussy juices lubricate the way for him to thrust in and out of her greedy snatch, much to her delight.
When he pulls out for a moment, Nesty happily reaches out with her feet to continue stroking him off with long careful strokes.Getting on her hands and knees, Nesty abandons her hold on Kristof's hardon with her feet so that she can suck her boyfriend off instead.
Her long slurps and licks are just what Kristof needs to be truly turned on, igniting their mutual attraction even further.
Rolling her eyes up, she maintains eye contact with Kristof as she makes love to his dick with her sweet mouth.Turning around on her hands and knees, Nesty murmurs her approval as Kristof licks along her ass and thumbs her clit and fuck hole.
When he starts fucking her doggy style, though, Nesty's vocalizations become outright moans of ecstasy.
Kristof doesn't hold back, taking her hard enough that his balls slap against her clit with every stroke.Laying on his back, Kristof watches with pleasure as Nesty climbs on top of him and straddles his lap.
She slides down slowly onto his member, taking him in one delicious inch at a time.
With her hips moving in a sweet rhythm, she takes her time for both herself and her lover.
Falling onto her side, Nesty lets Kristof bring her off as they spoon together in their passion.
When Nesty rolls onto her back, she can't stop smiling while Kristof works himself in and out of her creamy twat.
It's the perfect storm of sensation for Kristof, and he can't hold back for long.
Pulling out, he covers Nesty's belly in cum before rubbing himself all over her clit for one last lusty touch before sealing their lovemaking with a kiss.

the end
Watch The Wrapped Up In You Video