Cum hungry cute coeds Lucy Heart and Suzy Rainbow suck their guy off then take turns getting their horny pussies pounded
---
Sweet Release
---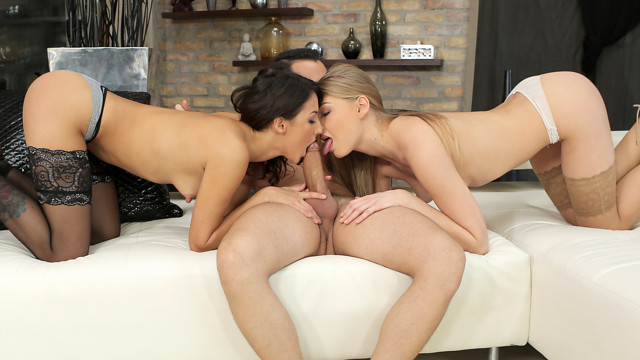 Raul Costa and his girlfriend Lucy Heart have their lips locked as they indulge in long kisses.
Unknown to them, Suzy Rainbow is standing on the sidelines with her hand down her sheer panties as she enjoys the show.
When Lucy notices Suzy, she beckons her lover closer to surprise Raul with a hot threesome.The two girls exchange deep kisses before letting Raul get back into the action.
They smile as he relieves each of them of their bras, and join Raul in teasing and one another's breasts.
Once they've gotten Raul out of his clothes, Lucy takes the lead in engulfing his hard dick in her hot mouth.
Suzy takes over where Lucy leaves off, joining her girlfriend as they take turns licking and sucking Raul's stiffie.
With mischievous grins on both of their faces, the girls pull away from, their double blowjob.
They full off their high heels and lean back on the couch.
Then, they each reach out with their stocking-clad feet to wrap Raul's hardon in textured warmth of their feet stroking his dick and playing with his balls.Their position makes it easy for Raul to play with each of their twats beneath their panties as they tease his cock.
Knowing she wants more, Lucy is the first to peel off her underwear while Suzy quickly follows suit.
While Lucy resumes sucking Raul's dick, Suzy positions her creamy snatch over his face.
As soon as Raul is distracted by feasting on the brunette's twat, Lucy takes advantage and swings her leg over his hip so she can impale herself on his fuck stick and go for a ride.Switching things up, Suzy gets on her hands and knees while Raul positions himself behind her so he can take her in a doggy style pussy pounding.
Her gasps and moans fill the room, but are soon muffled when Lucy slides down beneath her face.
With her focus split between Raul's hard dick pile driving her tight fuck hole and her fingers working Lucy's sheath, Suzy needs something more to cum.
Raul knows just what to do; leaning forward, he strokes his tongue along Suzy's anus in a move that leaves the brunette boneless with delight.Still on her side, Lucy lifts one leg when Raul spoons behind her so he can reenter her soft glove.
His long strokes are just what Lucy needs to explode with delight.
Moments later, Raul sinks into Suzy's pussy one last time.
As she reaches the pinnacle of her pleasure, Raul reaches the end of endurance.
Pulling out, he covers Suzy's belly and chest in cum that Lucy is eager to lap up and snowball with her girlfriend.
the end
Watch The Sweet Release Video