Latina coed Gina Valentina fantasizes about fucking her lover then gets her creamy pussy pounded in perfect reality
---
Sexual Fantasy
---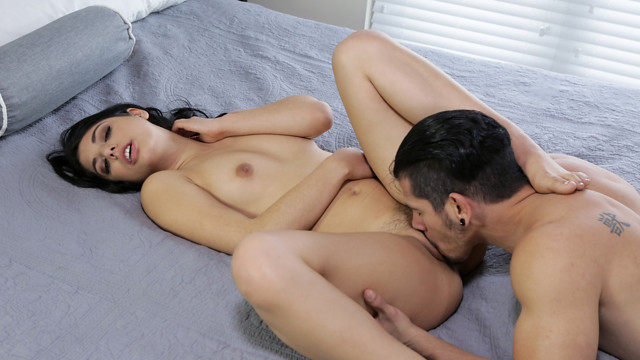 Gina Valentina walks in on Bambino where he's making a meal for both of them.
In her mind's eye, she envisions herself strutting up behind Bambino and caressing his shoulders in an invitation for him to take her.
Her imagination runs wild as she leans against the counter, stroking her tits and caressing her landing strip pussy while Bambino remains oblivious to her desire.When Gina finally decides to act on her fantasies, Bambino is everything she dreamed he would be.
They relocate to the bedroom, where her hands slide down to cup his big stiffie and Bambino brings his hands around to rest on Gina's ass.
Sliding his hands up to relieve Gina of her bra, Bambino massages his lover's small tits as she grinds her ass against him.Finding herself face down on the bed with Bambino tugging at her thong from behind, Gina waves her rump in a sultry invitation her lover is all too glad to take her up on.
He laps at her creamy twat from behind, then flips Gina on her back so he can continue his warm ministrations.
Climbing up her body, he kisses her to transfer the taste of her fuck hole.Leaning forward as Bambino rises to his feet, Gina opens her mouth wide to accommodate her lover's hardon.
She sucks him long and hard, deep throating his cock as he guides his head right where he wants her.
Stroking her hand up and down Bambino's shaft in time to the slurps of her puffy lips, Gina doesn't quit until her boyfriend is nice and hard and ready to fuck.When she turns around to once again present her rump to Bambino, Gina fills the room with a moan of pure bliss as he slides deep inside her tiny pussy.
His long strokes are just what Gina needs as she rises higher so her back is to Bambino's chest.
Rocking back to meet his every stroke with one of her own, she helps him set a pace that is mutually pleasurable.Her face wreathed in smiles, Gina rolls onto her back and slides her hand between her thighs so she can rub her clit as Bambino continues to pound her lush snatch.
She gradually raises her legs, bringing her knees up to her chest to change up the angle of penetration.
Bambino follows her every move, making sure that the pussy pounding never stops as he brings Gina to a climax.As her body hums with delight, Gina pushes Bambino onto his back so she can suck his stiffie again.
As soon as she's ready for another round, she swings a thigh over Bambino's waist and slides down on his fuck stick.
Going for a wild ride, she works her hips while treating Bambino as her personal steed until she explodes again.
Climbing off her lover's dick, Gina strokes and sucks until she finishes him with a facial that leaves her licking her lips in satisfaction.

the end
Watch The Sexual Fantasy Video