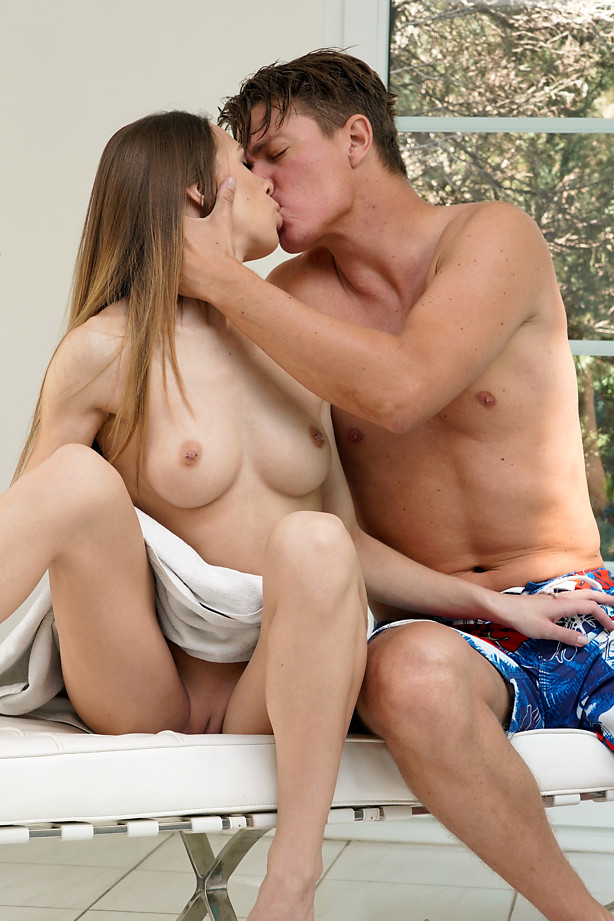 featuring

Ricky Rascal and Veronica Clark.
Added On:
Sep 17, 2018
Description:
Stunning Veronica Clark is enjoying a couple's weekend with her boyfriend Ricky rascal. Their retreat has a pool, and both Ricky and Veronica are determined to take advantage. When Ricky comes outside and spots Veronica wearing nothing but a towel, though, his determination to take a dip melts away in the face of his lush lover's body.
Soon Veronica has let the towel puddle around her waist to reveal her full breasts with pierced nipples. Ricky indulges himself caressing the tender globes as he relieves Veronica of the towel altogether. Letting his hand slide lower, Ricky tests the waters of Veronica's passion. He finds her nice and wet as he slides his finger up her slit, he locates her clit and applies himself to gentle caresses designed to bring her passion to a fever pitch. Soon his fingers have begun to dip into Veronica's damp sheath until he is fingering her to a quick, appetite-whetting climax.
As Veronica calms down and prepares herself for another round of pleasure, Ricky tugs his trunks off and switches spots with her on the lounger. Veronica is quick to take advantage, taking his stiffie in hand to guide it to her mouth. Her lips are soft and sweet as they close around the head of Ricky's hardon, and the sensation of suction from her mouth is second to none.
By the time Veronica is ready for more, Ricky is rock hard and eager to fuck. Veronica swings one leg over Ricky's lap, positing herself and then sliding down on his fuck stick. Her hips move in long strokes that hit every one of her most tender spots on the way in and out. Turning around to ride reverse cowgirl, Veronica continues her sweet and slow domination of her boyfriend.
The couple changes things up as Veronica arranges herself on her hands and knees with Ricky behind her. Anchoring his hands on Veronica's hips, Ricky dives balls deep. Veronica can't hold her moan as Ricky gives her the pussy pounding she craves, and soon her hips are rocking in time with his thrusts.
Turning over and spreading her thighs so that Ricky can slide two fingers into her warmth, Veronica reaches down to rub her own clit. Ricky isn't shy about dipping down to sample her musk, but then he is back on his feet for another round of banging. This time their position lets Veronica stare into Ricky's eyes as he pumps his hips until the force of her sexual need causes her to throw her head back in abandon. Moments later, Ricky pushes in as far as he can to release his seed in a creampie of true love.