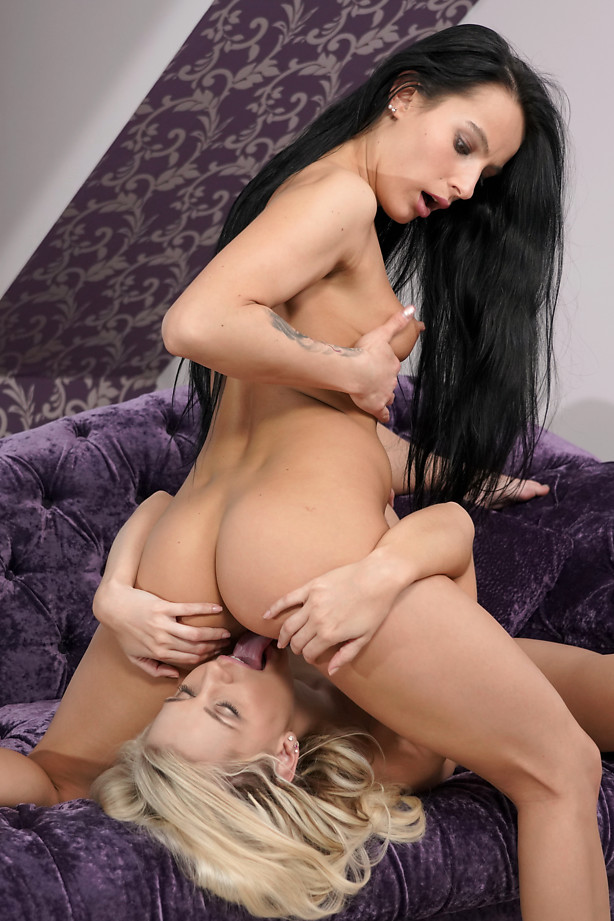 featuring

Dido Angel and Mindy.
Added On:
Aug 18, 2018
Description:
Mindy and Dido Angel play sexy games as Mindy awaits discovery by Dido. Once the blonde surprises Mindy from behind, she wastes no time in relieving Mindy of her robe. The sheer bra and thong that hug Mindy's slim curves and perky tits are the best kind of decoration. The raven-haired cutie is quick to help Dido drop her bra to the ground, followed closely by Dido's thong.
Relocating to the couch, Dido lays down and cups Mindy's head as her girlfriend follows her down. Mindy's warm mouth fastens around first one nipple and then the other, licking the small nubs to total hardness. Then she makes her way down Dido's tanned body, teasing Dido's belly before settling between the blonde's long legs and sweeping her tongue up the length of Dido's slit.
Enjoying her first taste, Mindy dives in for a long and languorous pussy licking. Dido's moans are all the guidance she needs to locate Dido's clit and to find all of her most sensitive spots. Slipping her fingers into the hot silk of Dido's fuck hole, Mindy flicks her wrist back and forth. Then she presses her damp fingers to Dido's clit and starts stroking. She keeps switching it up, using her tongue, lips, and fingers to drive Dido wild until the blonde has enjoyed an explosive orgasm.
Sitting up long enough to relieve Mindy of her panties, Dido drops onto her back once again and pulls her girlfriend on top. Mindy's pussy is in perfect licking position once Dido has gotten her adjusted to her liking, and she doesn't wait for an invitation to get going!
Mindy enjoys the sensation of a talented tongue probing all of her most tender parts before leaning forward to dip her fingers into the wetness of Dido's twat so she can lick the juices from her fingertips. Shifting her attention to her own breasts, Mindy hefts the heaviness of her perky little jugs and tweaks her own nipples. All the while her hips move of their own accord, riding Dido's mouth as the blonde makes magic happen with her mouth.
As soon as Dido has given Mindy her first orgasm of the afternoon, she gets on her hands and knees at Mindy's urging. The new position exposes Dido's pussy and the tightness of her anus, making it easy for Mindy to take a few small licks before she rises to her knees for better leverage. Pressing her thumb to Dido's chocolate starfish, Mindy drives two fingers knuckle-deep into her girlfriend's snatch to bring her the pussy pulsing pleasure she craves.
Arranging Mindy on the arm of the couch, Dido flicks her tongue over her lover's clit again and again. When Mindy slides forward with her hands around her legs to keep them separated, Dido gets her face even deeper. Her touches are light and gentle with just enough pressure to drive Mindy wild as she works her moaning girlfriend to her second release. Climbing up Mindy's body for a kiss, Dido cuddles close as they each bask in the afterglow of good sex.