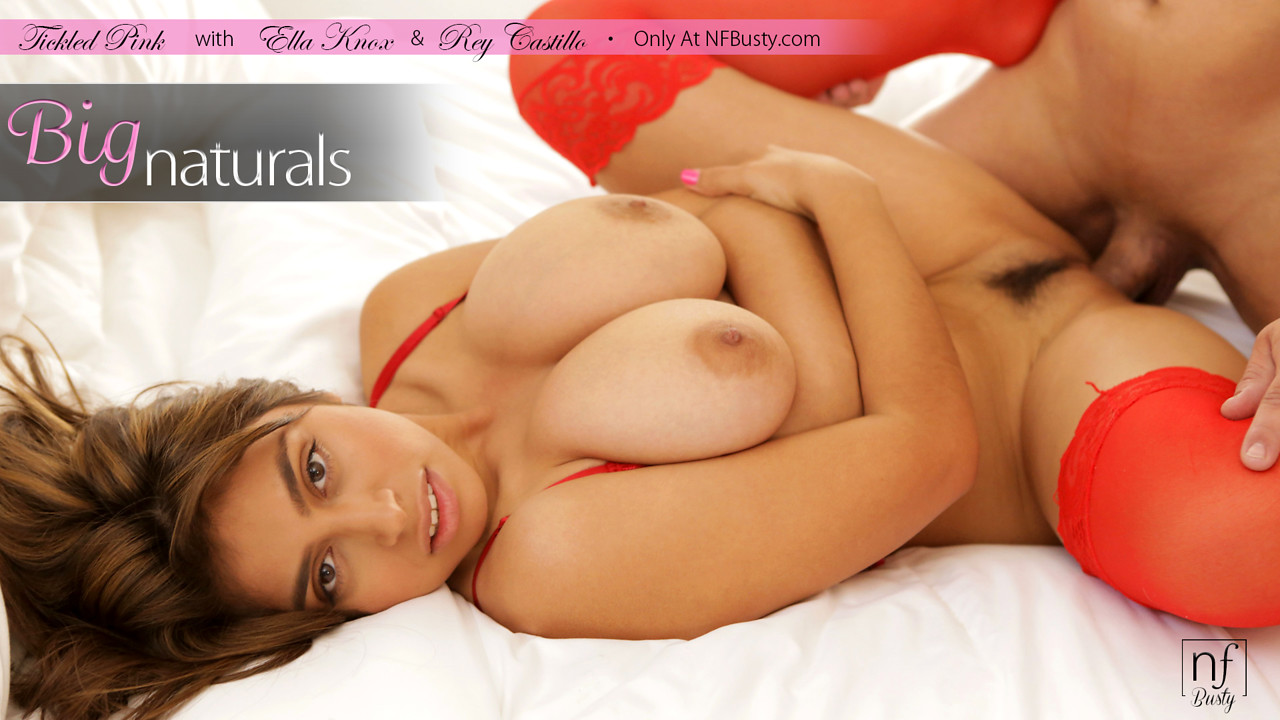 featuring

Ella Knox and Rey Castillo.
Added On:
Jan 18, 2019
Description:
Ella Knox is looking stunning in red thigh highs and matching lingerie that hugs her ass and cups her big breasts. This pretty picture can't keep her hands off the sweetness of her lingerie or the softness of her skin as she caresses her tits. Once her nipples harden to peaks, she uses them to jiggle those big jugs to her heart's content.
Sliding one hand lower down her body, Ella dips her fingers into a hole in her panties to feel the wetness between her thighs. She's just getting cozy like that when Rey Castillo joins her in bed with a feature that will leave her moaning for more. He indulges Ella with plenty of light touches before freeing her breasts from her bra and her pussy from her underwear.
Now that Ella's best assets have been revealed to him in a buffet of desire, Rey can take his pick of where he wants to begin. He chooses to start low, flicking his tongue out to tease Ella's clit before he settles in for a pussy feast. As Rey continues to work his mouth and tongue, Ella takes the opportunity to knead her titties to her heart's content.
Ella has better uses for those soft fun bags than just squeezing them on her own. She gets Rey on his back and then climbs on top of him so she can glide her twat back and forth across his hard dick while he takes his turn enjoying her bazongas. Then she slides down his body, taking some time to explore Rey's hardon with her mouth before she pushes her boobs together for a titty fuck.
At long last Ella makes a return trip back up Rey's body and positions his man meat at her entrance so she can slide down. When she's fully impaled, she begins to rock her hips back and forth in a primal rhythm of desire. Her hand creeps down to rub her clit, but eventually she yields her desire to Rey's as he draws her close to go back to work on her lush all naturals.
When the lovers settle into a spooning position, Ella lifts her leg high in the air for the ultimate penetration. Rey's hands are everywhere, caressing Ella's breasts, pinching her nipples, and maneuvering her thigh into better positioning. When that angle is not enough, Rey urges Ella onto her back so he can dominate her from above.
This final position leaves Ella's body throbbing with the force of her climax. Rey pulls out of that tight glove and lets Ella take his dick in her hand to stroke him off. As Rey nears his completion Ella guides his fuck stick so that he blows his load all over her breasts to leave herself sticky with his love.