Lesbian coeds Taylor Sands and Tiffany Tatum lick each others clits and finger bang each others creamy pussies
---
Lesbian Romance
---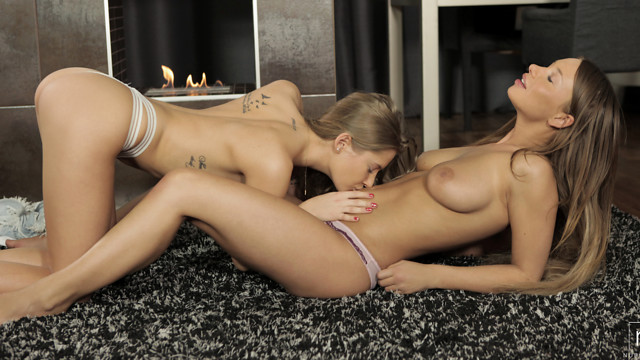 Taylor Sands and Tiffany Tatum sit together in front of the fireplace, each of them smiling and shy.
They explore one another with slow movements, gradually exposing each other's breasts and hard nipples.
Scooting closer, Tiffany leans in to capture Taylor's lips in a passionate kiss.Rising to her feet, Tiffany sheds her shorts and smiles as Taylor reaches up to caress her bottom that is hugged by a thong.
When she drops down to her knees and relieves Taylor of her shorts, Tiffany can't stop from kissing her lover's big breasts, hard nipples, and flat belly.
Peeling off Taylor's underwear, Tiffany slides her girlfriend's pussy juices everywhere with her fingers before she settles in to flick her tongue over Taylor's clit.On her belly now, Tiffany makes magic with her tongue in Taylor's hairy twat.
The brunette throws her head back with delight as Tiffany keeps up her sensual assault, then slips Tiffany's panties off so she can return the favor.
It isn't long before she has her fingers buried in Tiffany's creamy snatch with her tongue tickling her girlfriend's most tender spots while Tiffany plays with her own puffy nipple boobs.Urging Taylor onto her hands and knees, Tiffany goes back to work for her lover's pleasure.
She enjoys a cream filled feast as she laps away at Taylor's fuck hole.
Turning to watch Tiffany over her shoulder, Taylor curls her fingers into the carpet and hangs on for the sensual ride until Tiffany's tongue and fingers bring her to a final climax that marks the end of their lovemaking.

the end
Watch The Lesbian Romance Video