Cute lesbians Elena Koshka and Sierra Nicole suck each others tits and finger fuck one anothers cum hungry pussies
---
When Sierra Nicole finds Elena Koshka sleeping in just a bra and thong, she couldn't ask for a hotter sight.
She can't keep her hands off her girlfriend, so she decides to let in the light for a gentle good morning.
When Elena playfully throws a pillow at Sierra, the girls have a brief pillow fight that turns sexy as they start kissing.Peeling off Sierra's bra between kisses, Elena cups her lover's small breasts and pinches her hard nipples.
She drops to her knees, pressing her mouth to the bounty of Sierra's chest.
Only after Elena has enjoyed her tittie feast does Sierra return the favor, revealing Elena's puffy nipple breasts and tantalizing them.When Elena pushes Sierra back onto the bed and slips her thong off, the blonde raises her hips in an entreaty for the pleasure she knows is coming.
Elena delivers, rubbing her thumb up and down Sierra's slippery slit.
When she leans forward to put her lips and tongue to work, Sierra can't contain her moans of excitement.
That only causes Elena to double down on Sierra's pleasure, using two hands to simultaneously finger bang Sierra's twat while fondling her clit.Once she's certain that she has temporarily satisfied Sierra, Elena slips out of her own thong and then climbs onto her lover's face.
Positioning her fuck hole carefully, she thrusts her hips in time with the movements of Sierra's obliging tongue.
The delectable pussy feast continues until Elena switches spots with Sierra and lays down on the bed.Once Sierra is on her knees in a position of power, she presses two fingers deep into Elena's snatch.
Curling her fingers in a come-here motion, she hits Elena's g-spot again and again.
With every flick of Sierra's wrist, Elena's gasps of excitement grow louder until her whole body is throbbing with excitement.Although both girls have enjoyed a taste of orgasmic heaven, they're not quite done yet.
Sitting so that they face each other, they scoot forward with their legs spread until they are pressed pussy to pussy.
Scissoring together with their hips working in a sinuous motion that is mutually pleasurable, they bring each other off once again until they fall to the side, sated and ready to cuddle.
---
Photos From Girls Will Be Girls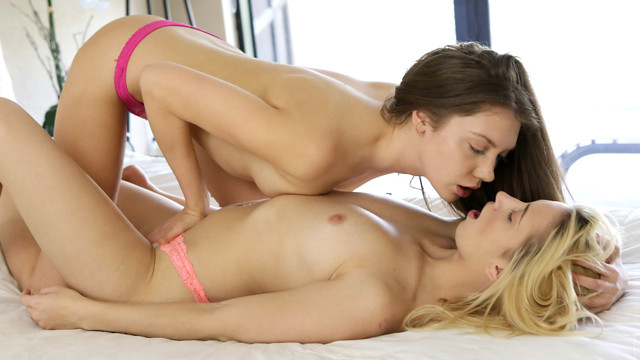 ---
More Photos Of Elena Koshka,Sierra Nicole.
---